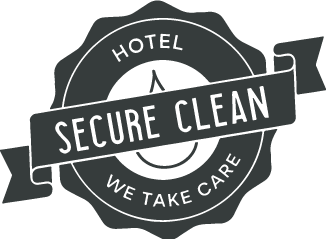 Secure clean
Our daily life has changed, but our desire to travel and to take a break is always the same. We have taken a series of specific measures to offer you a safe holiday, such as the presence of devices for disinfecting the hands of guests and collaborators. To make you feel even more at ease, we have created the necessary space for you: for a peaceful and carefree holiday, in the safest way possible.
Maximum cleanliness and hygiene, which have always been our flagship, are guaranteed! We have chosen to follow the best prevention protocols to allow you to enjoy a completely safe holiday. All surfaces and contact points are cleaned and disinfected several times a day! We also take care of adequate ventilation and air exchange. Of course, all our rooms are completely sanitized after each departure.
Some things, we said, have changed, but we are still the same. Your satisfaction continues to be our highest aspiration. We are always at your disposal to help you and give you the best advice in any situation. You can count on us!